This is an archived article and the information in the article may be outdated. Please look at the time stamp on the story to see when it was last updated.
SOUTH LOS ANGELES (KTLA) — A stolen vehicle suspect was finally taken into custody after a wild pursuit involving two dangerous collisions on Tuesday.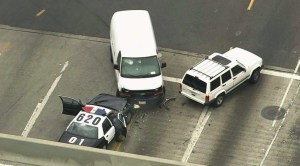 The chase began just after 1 p.m. and went along the 110 and 10 freeways, as well as surface streets.
The suspect, driving a stolen white Chevrolet van, slammed head-on into a patrol car and another vehicle before backing up and taking off again.
A second collision occurred after the suspect blew through another intersection and T-boned an SUV.
The driver managed to keep going again, leading authorities past the Los Angeles Coliseum, before eventually running over a spike strip.
Unable to drive the van anymore, the suspect jumped out as it rolled to a stop.
The driver ran across the street and slipped on wet pavement. He was taken into custody without further incident.