This is an archived article and the information in the article may be outdated. Please look at the time stamp on the story to see when it was last updated.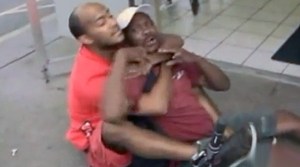 ORLANDO, Fla. — A supermarket manager doing a TV interview about crime in his store took down an alleged shoplifter while the camera rolled.
Lenin Ubiera-Cruz was being interviewed about a rash of thefts at the Family Foods Supermarket.
One man allegedly stole meat, beer, sausage and even stuffed a whole carton of eggs in his pants, Ubiera-Cruz said.
In the middle of the interview, Ubiera-Cruz suddenly told the reporter he saw the alleged shoplifter right outside the store.
He raced after the man, tackled him and held him until police arrived.