This is an archived article and the information in the article may be outdated. Please look at the time stamp on the story to see when it was last updated.
Interstate 5 at the Grapevine was reopened Saturday afternoon to slow-moving traffic after a sweeping winter storm dumped snow on California's main north-south artery, temporarily shutting the roadway.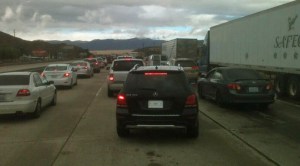 California Highway Patrol officers took turns escorting dozens of cars at a time on Interstate 5 over the Tejon Pass, traveling no faster than 35 mph in some cases, said CHP Officer Eric Priessman.
Highway 58 through the Tehachapi Pass was also reopened Saturday afternoon.
Click here to read more at latimes.com.