This is an archived article and the information in the article may be outdated. Please look at the time stamp on the story to see when it was last updated.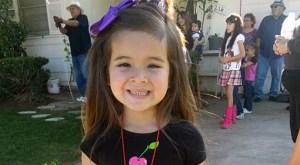 RIVERSIDE, Calif. (KTLA) — An arrest has been made in a hit and run crash that left a 4-year-old girl in intensive care.
According to witnesses, a 2008 black Ford Mustang was possibly racing with a second car when he ran a stop sign and broadsided a Chevy Malibu.
4-year old Carlie Rodriguez, who was sitting in a booster seat in the left rear passenger seat of the Malibu, was critically injured in the collision.
The driver of the Mustang got out and asked if they were okay, and then fled on foot.
The Mustang was initially reported as stolen, but investigators later learned that was a ploy to conceal the identity of the driver responsible for the collision.
That led to the arrest of 20-year-old Ricardo Gamez of Oceanside.
Gamez was booked Thursday on suspicion of felony hit and run. Additional charges are pending.
Initial statements suggested that street racing may have contributed to the collision.
However, investigators say there is no evidence of another vehicle at the scene.
Carlie remains hospitalized in critical condition.
Anyone who witnessed the crash or who has any information is asked to call Riverside police.