This is an archived article and the information in the article may be outdated. Please look at the time stamp on the story to see when it was last updated.
Security measures were stepped up at a Costa Mesa elementary school Thursday after a student was struck by a projectile after what sounded like BBs being shot, according to police.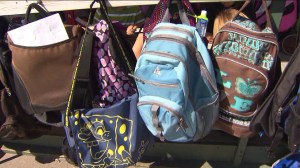 Students in the field at College Park Elementary School heard the sound of BBs just before 8 a.m., according to a news release from the Costa Mesa Police Department.
At the same time, a 10-year-old student was hit in the calf by "a small metal projectile similar to a BB," police said.
After being treated in the health officer, the student returned to class.
Meanwhile, police are investigating the incident alongside the Newport-Mesa Unified School District, which increased supervision on the campus in the 2300 block of Notre Dame Road.
Anyone with information was urged to call Costa Mesa police Detective Bureau at 714-754-5205.