This is an archived article and the information in the article may be outdated. Please look at the time stamp on the story to see when it was last updated.
Dozens of students and faculty members gathered to protest outside a Career Colleges of America campus in South Gate on Thursday, the day after the vocational school unexpectedly locked its doors.
Staffers said the school, which has an enrollment of about 800 students, has been beset for months by severe financial problems.
Career Colleges of America's training programs include surgical technology, alcohol and drug counseling, fitness training, and medical billing, according to its website. The school's three campuses are in Los Angeles, South Gate and San Bernardino.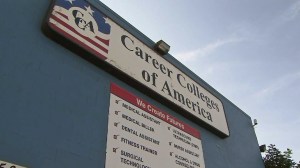 On Wednesday, administrators shut down the institution after teachers walked out. The instructors claim they have not been paid since November.
"They've known about this problem since July," said student Jazmin Williams. "They enrolled me and had me start school on Nov. 25. So they've been knowing all this and took my registration fee.
"Now I have to find somewhere else to go," she said. "All of this is just really inconvenient for me because I have a young child that I have to find daycare for. This is just not right."
The U.S. Department of Education has restricted certain funding for the school due to a lack of properly documented expenditures, according to documents from the Accrediting Council for Continuing Education and Training.
School administrators did not respond to multiple requests for comment.