This is an archived article and the information in the article may be outdated. Please look at the time stamp on the story to see when it was last updated.
ARCADIA, Calif. (KTLA) — Students and parents showed support for a fired Arcadia High School coach by attending an emergency school board meeting Wednesday.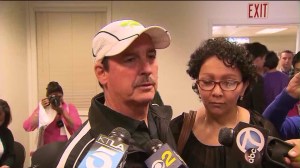 A few dozen supporters showed up at the meeting to urge the district to keep coach Jim O'Brien, who was fired after 17 years of coaching cross-country.
Board members made no comment on the firing after the meeting, but said the superintendent would be making a decision and posting it online in the next 24 hours.
"It makes me feel terrible. It makes me feel like they just cut my guts out," O'Brien said.
O'Brien, who also teaches physical education, was accused by some of vandalizing school property back in March when he spray painted an "X" on broken lockers in order to get the school to fix them.
"If hindsight was 20-20 and I had it to do over again, I would ask for permission to do that to protect the kids. Instead of doing it thinking that I'm doing the right thing," O'Brien said.
O'Brien said he planned to take legal action to get his coaching job back if necessary.
He was expected to continue teaching P.E. at the school.