This is an archived article and the information in the article may be outdated. Please look at the time stamp on the story to see when it was last updated.
An important phase of construction on the San Diego (405) Freeway was completed ahead of schedule Monday, transportation officials said.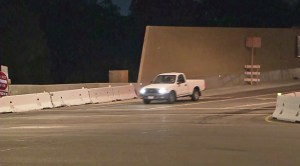 The newly rebuilt Sunset Boulevard off-ramp from the northbound 405 reopened at 5:15 a.m., about 45 minutes early and a week ahead of schedule, Metro said.
The ramp was closed for nearly four months as part of the ongoing $1 billion freeway construction project in the Sepulveda Pass.
The newly rebuilt ramp is about 60 percent longer, and is expected to help ease congestion in Westwood, Metro said.
About 9,600 cars use the Sunset off-ramp each day, according to Metro.
Despite that bit of good news, drivers faced more closures on the 405.
The northbound side of the freeway was scheduled to close for ongoing repair work between 12 a.m. and 5 a.m. Tuesday, according to a statement issued by Metro.
The closure was set to take place between Wilshire Boulevard and Moraga Drive.
Crews planned to begin blocking off ramps to the freeway at 7 p.m., Metro said.