This is an archived article and the information in the article may be outdated. Please look at the time stamp on the story to see when it was last updated.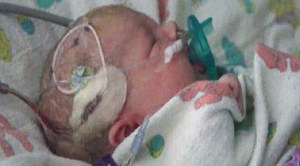 KANSAS CITY, Kan. (KTLA) — An infant girl in Kansas was recovering Monday after doctors used surgical super glue to seal a bleeding aneurysm in her brain.
By all appearances, Ashlyn Julian was born healthy, but within days of going home her behavior changed dramatically.
"We (went) from a baby that was very quiet to a baby that was screaming all the time and throwing up, and at that point we knew something was very wrong," mother Gina Julian told CNN.
Ashlyn's parents took her to the emergency room at Children's Mercy Hospital in Kansas City.
Doctors, who could find no obvious reason for the baby's apparent pain, decided to conduct an ultrasound.
"The ultrasound was as far as we made it because they saw something in her head at that point in time," Julian said.
What doctors finally discovered was an aneurysm the size of an almond in Ashlyn's 20-day-old brain.
"We did not know what the right answer was. This was not a textbook case," Dr. Koji Ebersole, an endovascular neurosurgeon said.
The standard treatment for brain aneurysms has been to open the skull, but for a baby as young as Ashlyn, that wasn't the preferred option.
So, doctors chose a unique option, one that involved inserting a micro-catheter into Ashlyn's neck to reach the ruptured aneurysm and deposit a drop of glue.
The surgery was a success, Ebersole said.
Ashlyn could be released from the hospital next week and Ebersole said her long-term prognosis was good.
CNN contributed to this report