This is an archived article and the information in the article may be outdated. Please look at the time stamp on the story to see when it was last updated.
LOS ANGELES (KTLA) – Young patients at Mattel Children's Hospital UCLA were treated to a special experience Wednesday when hospital window washers dressed as superheroes descended from the roof of the building.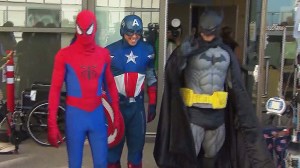 The superhero window washers, dressed as Batman, Captain America and Spiderman, lowered themselves on a cleaning platform to the fifth floor where pediatric patients were waiting on a terrace.
"Our goal is to help kids cope with being in the hospital," manager of the Chase Child Life Program Kellye Carroll said.
"If we can facilitate an event like this that gets kids out of their room, into the sunshine out on the terrace, and lets them forget where they are for a short amount of time then we've done our job," Carroll added.
The superheroes talked and took pictures with the children and their families before returning to the roof.
The trio then descended the east-facing wall to clean windows of pediatric patients unable to leave their hospital rooms.