This is an archived article and the information in the article may be outdated. Please look at the time stamp on the story to see when it was last updated.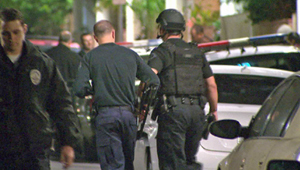 BALDWIN HILLS, Calif. (KTLA) — A suspect was killed by police after holding his two young children with his ex-girlfriend hostage in a Baldwin Hills apartment.
The hours-long hostage drama ended shortly before 5 a.m. Wednesday. The children, a 6-year-old girl and a 3-year-old boy, are fine, police said.
It all began just after 6 p.m. on Tuesday when neighbors called 911 reporting a domestic disturbance.
When officers arrived, they were met outside by the ex-girlfriend, who indicated she had been battered by the suspect, said LAPD Sgt. Rudy Lopez.
Police tried to make contact with the suspect, and he threatened them and barricaded himself inside with the two children, Lopez said.
The LAPD's SWAT team was called to the scene. A hostage negotiator had been speaking to the suspect throughout the night.
"After hours of negotiating with him, the SWAT negotiators felt the safety of the children was at risk, so they made a determination to go into the location," Lopez said.
"Ultimately an officer-involved shooting occurred," he said. The suspect was pronounced dead at the scene.
The suspect was armed with a weapon, but it wasn't immediately clear what kind of weapon it was.
A crisis response team was brought to the scene to talk to the woman and the children. The investigation is ongoing.