This is an archived article and the information in the article may be outdated. Please look at the time stamp on the story to see when it was last updated.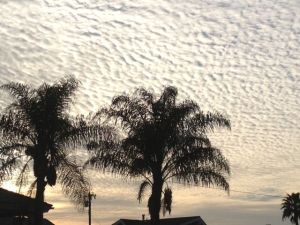 Gratitude goes to our viewer Ioala Holmes from Lake Forest for the photo and to Solspot for providing the report.
Thursday will see the nice run of surf continue…our current swell mix will fade slightly but still hold on to plenty of size throughout the day. Winds look clean for most areas in the morning with just a handful of beaches seeing some modest onshore texture.
Thursday will see the WNW-NW swell (280-300) back down slightly from Wednesday but then sort of stabilize as a secondary pulse of WNW-NW energy arrives to help prop up wave heights. There will be some SSW-SW swell (200-220) that will continue to hold in the background but it will be small enough that we can expect to be lost in more dominant WNW-NW energy.
We will partly sunny skies with some areas of patchy fog along the coast on Thursday. Winds will be blowing mostly out of the N-NNE around 2-3 mph…however it does look like a slight eddy swirl may swing those winds around to the SE-ESE for North Orange County and more E-ESE for San Diego. All areas will have winds shift onshore out of the W-WNW around 10-14 mph by the afternoon.
Ventura
SURF: 4-6'
SWELL: Slightly fading mix of WNW-NW swells and background SW energy
WIND:  N-NNE 2-5 mph
WATER: 56°
Los Angeles
NORTH LA SURF: 2-3'
LA SOUTH BAY SURF: 4-6'
SWELL: Peaking WNW-NW swell and background SW energy
WIND:  N-NNE 2-5 mph
WATER: 58°
Orange County
SURF: 3-4' for the average spots while North OC standouts see 6' sets
SWELL: Peaking WNW-NW swell and background SW energy
WIND:  SSE-SE 2-4 mph
WATER: 58°