This is an archived article and the information in the article may be outdated. Please look at the time stamp on the story to see when it was last updated.
A Murrieta man with terminal pancreatic cancer knows he won't get  a chance to see his young daughter mark the milestones of growing up.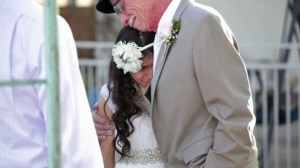 This month, thanks to a photographer with a vision, Jim Metz, 62, got to walk his 11-year-old daughter down the aisle.
In a backyard wedding ceremony realized by photographer  Lindsey Natzic Villatoro and her friends, Josie clutched her father's arm and walked toward a ceremony she will surely never forget.
Villatoro had photographed Jim, Josie and Josie's mother Grace for one of their final family portraits together, according to the Riverside Press-Enterprise, which first reported the story.
Then Villatoro had an idea for Josie's birthday, and she contacted many others who helped her create her vision.
"One day (you) wake up and realize you're given the opportunity to change someone's life for the better. You get an idea, don't think twice and run with it," Villatoro wrote in a description of a video slideshow she made from the event.
Grace, not knowing the scale of Villatoro's plans, agreed to a create a "mini-wedding" for Josie.
"She mentioned (Josie) was so emotional about her dad not being there for memories down the line, so I figured we would make some now," Villatoro wrote.
With the help of Villatoro's friends, Josie had her makeup and hair done. She wore a long, lacy white dress and carried a pink-and-white bouquet.
Then, biting her lip and holding her suited father's hand, Josie walked down the "aisle" in the family backyard.
"Your dad may not get to see you get married, but he is here to walk you down the aisle today," said Gary Galbraith, the pastor, according to the newspaper.
He put a ring on her pointer finger, the video shows, and then Galbraith pronounced them "daddy and daughter."
They walked out to share a quiet, tearful moment, before returning to a "reception" with family and friends. In one of Villatoro's photographs of the father and daughter sitting together, a lone tear drops down Jim's cheek.
"Down the road, this will mean a lot to her," Jim Zetz said, according to the Press-Enterprise. "She will always remember it."
Villatoro wrote that it was an "an honor" to surprise the Zetzes.
"Josie, you will forever have a video of you and your dad walking you down the aisle to play at your wedding in years to come, as if he was physically there," she wrote.
[protected-iframe id="0fc999072eada40bea2fe806f9ca17c7-41641936-54452678″ info="//player.vimeo.com/video/89526392″ width="500″ height="283″ frameborder="0″ webkitallowfullscreen="" mozallowfullscreen="" allowfullscreen=""]