This is an archived article and the information in the article may be outdated. Please look at the time stamp on the story to see when it was last updated.
Los Angeles police were asking for the public's help Monday identifying a man captured on surveillance video before allegedly burglarizing a Hollywood Hills home.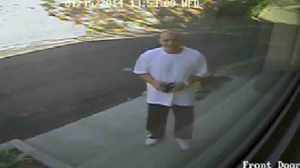 The man was believed to be responsible for several burglaries in the exclusive neighborhood, according to a news release sent out Monday by the Los Angeles Police Department.
The video, from 2 p.m. Jan. 15, showed a man knock on the door of a home in the 2700 block of La Cuesta Drive (map).
Getting no answer, the man jumped a fence at the side of the home, shattered the glass on a door and entered, police said. He stole "numerous electronic devices" including an Apple laptop and five cellphones.
The robber was described as a 30-year-old Hispanic male with a shaved head, 5 feet 6 inches to 5 feet 10 inches tall, and weighing between 200 and 210 pounds.
In the video, he was wearing a large white T-shirt, black-and-white striped Adidas sweatpants and white sneakers.
Police said they believed the man was responsible for other Hollywood Hills burglaries, but they did not elaborate.
Anyone with information was urged to contact Hollywood burglary detectives at 213-972-2929. During non-business hours, call 877-527-3247.
Those wishing to remain anonymous should call 800-222-8477. Tipsters may also text 274637, beginning their message with "LAPD," or go to lapdonline.org, and click on "Anonymous Web Tips."