This is an archived article and the information in the article may be outdated. Please look at the time stamp on the story to see when it was last updated.
NORTH HOLLYWOOD, Calif. (KTLA) — Police responding to a call about an assault with a deadly weapon shot and killed a man in North Hollywood Sunday night.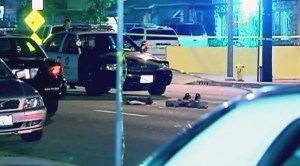 It happened around 7:30 p.m. in the 6700 block of Vineland Avenue, near the intersection with Vanowen Street.
The officers responding to the call had been told there was a man with a gun, police said.
When they arrived, they saw a man who matched the suspect description of the armed man, according to LAPD spokeswoman Officer Norma Eisenman.
The officers confronted the man and both fired, Eisenman said. The man's name has not been released.
It remains unclear what prompted the officers to open fire. It's also not known whether the man had a gun, or if one was found at the scene.
The incident is now under investigation. Police have not identified the officers involved in the shooting.