This is an archived article and the information in the article may be outdated. Please look at the time stamp on the story to see when it was last updated.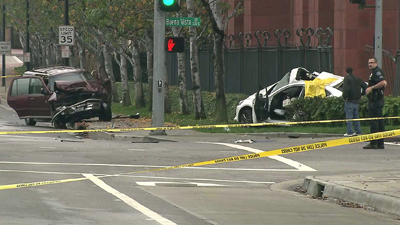 BURBANK, Calif. (KTLA) – A suspected drunk driver has been arrested after a deadly crash in Burbank Sunday morning.
The crash happened around 5:35 a.m. Sunday near the corner of Buena Vista Street and Alameda Avenue.
According to Burbank police, the driver of a dark colored SUV slammed into a white Lexus, pushing the car off the road and onto the curb.
The driver of the Lexus was later pronounced dead.  Their identity has not been released pending notification of next of kin.
No other injuries were reported.
The 29-year-old driver of the SUV has been arrested and booked for vehicular manslaughter and driving under the influence.
No further information has been released.