This is an archived article and the information in the article may be outdated. Please look at the time stamp on the story to see when it was last updated.
The father of the suspect in Wednesday night's fatal stabbing of a Dodgers fan in San Francisco said his son was attacked and acted in self-defense.
Michael Montgomery, 21, of Lodi, was booked on suspicion of homicide in the slaying Jonathan Denver, San Francisco police said.
A second person was detained, interviewed and released, San Francisco police said Friday.
Denver, 24, was stabbed to death near AT&T Park in San Francisco Wednesday night when a fight broke out about 90 minutes after a Dodgers-Giants game.
Denver's father, who works as a security guard for the Dodgers, is in a state of shock and can't even speak, according to family members.
"His son died in his arms," family member David Morgan said. "He went up to see the game with his boys and stupidity escalated I guess. The family's devastated."
Meanwhile, Martin Montgomery, after speaking by phone to his son in jail, told the San Francisco Chronicle that Denver started the confrontation by yelling "Giants suck."
Martin Montgomery said his son told him Denver hit him in the head with a chair and he acted in self-defense, the newspaper reported.
Denver — who was wearing Dodger apparel at the time of the incident — stopped at a local bar with his father, his father's girlfriend, his brother and another man after leaving the game in the eighth inning, San Francisco Police Chief Greg Suhr said in a news conference Thursday.
They left the bar abound 11:30 p.m. and walked on Third Street toward Harrison Street when they came across a group of people who had just left a nearby nightclub, Suhr said.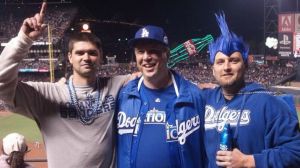 The two groups, one with Denver wearing Dodgers gear, and the other with a man wearing a Giants hat, began to argue about the Dodgers-Giants rivalry, according to Suhr.
That argument turned into a physical altercation in which no one was seriously hurt, Suhr said.
Some members of one group — it was unclear which — followed the other group and a second brawl occurred within minutes, according to Suhr.
After the altercation, Denver realized he had been stabbed and was taken to San Francisco General Hospital, where he later died, Sgt. Danielle Newman of the San Francisco Police Department said.
A second man was arrested in the incident but was released without being charged, the Chronicle reported.
Two other men were still being sought, according to police.