This is an archived article and the information in the article may be outdated. Please look at the time stamp on the story to see when it was last updated.
WOODLAND HILLS, Calif. (KTLA) — The 101 Freeway has reopened after being shut down in both directions in Woodland Hills Thursday morning while authorities investigated a suspicious device.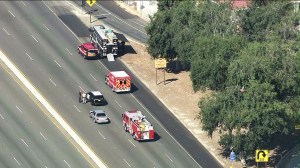 The westbound lanes were shut down at Shoup Avenue, and the eastbound side was closed at Valley Circle/Mulholland Drive, according to the California Highway Patrol.
Ventura Boulevard was also closed for several blocks in the area.
Police ended their investigation and reopened all lanes in both directions around 11:30 a.m.
It was unclear what the device authorities were investigating turned out to be.