This is an archived article and the information in the article may be outdated. Please look at the time stamp on the story to see when it was last updated.
One person was killed Thursday morning when a freight train collided with an SUV in Camarillo.
The crash, reported about 8:25 a.m., occurred near the intersection of East 5th Street and South Las Posas Road (map), according to Officer Dave Webb of the California Highway Patrol.
A 2014 Ford Explorer was traveling southbound on South Las Posas Road when it struck the train, which was heading eastbound, Webb said.
The cause of the crash was unknown and was being investigated, according to Webb.
The collision caused the SUV to roll over several times before coming to rest in a ditch, Webb said.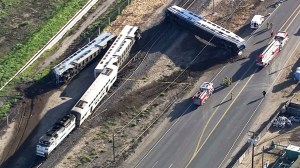 The SUV driver, a man believed to be in his mid 30s, was alone in the vehicle and died as a result of the crash, according to Webb.
Three people onboard the train did not report any injuries, Webb said.
The crash occurred about four miles from where a Metrolink train crashed into a pickup truck left on the tracks in February.
Engineer Glenn Steele, one of 28 people hospitalized following the crash, died about a week later.