This is an archived article and the information in the article may be outdated. Please look at the time stamp on the story to see when it was last updated.
SAN PEDRO, Calif. (KTLA) — Police arrested a man Wednesday morning after a more than 14-hour standoff in San Pedro.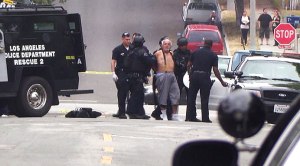 It all began around 8 p.m. Tuesday when police received a call about shots fired in the 700 block of Meyler Street.
Crisis negotiators were called out to try to get the suspect to surrender.
There was also a woman inside the home who refused to come out.
"She is not a hostage," said LAPD Sgt. Rudy Lopez. "She is refusing to exit on her own… but she's friendly with us and she's friendly with the individual inside."
Police fired tear gas outside the home, but they had to use caution in their tactics for the woman's safety.
At around 10:15 a.m., SWAT made entry into the home with bean bag guns and took the suspect into custody.
Mary Sea of the Star Elementary School was closed Wednesday morning due to the police activity.