This is an archived article and the information in the article may be outdated. Please look at the time stamp on the story to see when it was last updated.
Two men and two dogs had to be rescued from the Los Angeles River in the Cypress Park area on Friday morning when they became stuck in a tree amid rising waters in a powerful rainstorm, according to Los Angeles Fire Department Capt. Jaime Moore.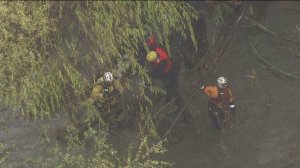 Crews were called in after the two people were reported to be holding onto a tree in the wash right off of the San Fernando Road, Moore said.
The water was moving swiftly and the deepest part of the water was about 10 feet during when the men, ages 48 and 49, and two pit bulls became trapped in the tree, according to Moore.
He added that the water was also very cold.
Aerial video showed rescue workers holding the two large dogs, which were also stuck in the tree.
Rescue crews loaded both of the dogs into a raft in order to get them safely back to land, video showed.
It was not immediately clear how the people and the dogs became trapped in the river.
Fire officials were urging people to stay away from the river during the rain.
"One of the things we want to encourage people is not to go near these channels, and to not go down into these reservoirs to see how fast the water is slowing," Moore said. "As much as they think it's neat to see it, it's very easy for someone to slip off, go into that water and find themself downstream in an uncontrollable current."
KTLA's Rose Razeghi contributed to this report.