This is an archived article and the information in the article may be outdated. Please look at the time stamp on the story to see when it was last updated.
A 22-year-old man was arrested Tuesday for allegedly stabbing his mother to death in a Sylmar home, authorities said.
Officers responded to the residence about 4:20 p.m. after calls to 911 gave conflicting information about a son and his mother attacking each other with a knife, according to the Los Angeles Police Department.
When the officers arrived, they found 55-year-old Matilda Sanchez lying on the living room floor. She had been stabbed several times, police said. Paramedics pronounced her dead at the scene.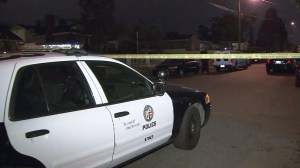 Her son, who was covered in blood, was detained and later arrested, the LAPD said. His name is expected be released when he is booked.
Police believe the man may have called 911 to implicate his mother as the aggressor.
"We have interviewed a witness, an uncle who lives in the home, who confirmed his nephew stabbed the woman," Lt. Paul Vernon, commanding officer of the Mission Detective Division, said in a statement. "It's especially tragic to deal with a scene where someone kills one's parent. This is the third such murder in Sylmar in two years."
A "large, bloody" butcher knife was discovered near Sanchez's body, according to the LAPD. Detectives wrote a search warrant, which will allow them to seize the knife with less chance of a subsequent legal challenge, police said.
Officers had responded to the home recently after reports of the son kicking doors and setting fires, according to Vernon.
"The history of activity at the home will give us more insight as to what's behind this tragic murder," he said.