This is an archived article and the information in the article may be outdated. Please look at the time stamp on the story to see when it was last updated.
SANTA CLARITA, Calif. (KTLA) — The California Highway Patrol was searching Tuesday for a number of weapons stolen from an officer's car.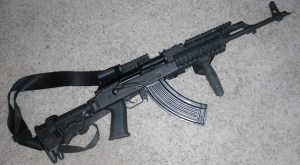 Highway Patrol officers were participating in tactical training exercises in the Stevenson Ranch area on Monday when the theft occurred, according to a CHP broadcast.
Two countywide crime alerts were broadcast Monday, listing the stolen weapons as two AR-15 semiautomatic rifles, two Remington shotguns and two Smith & Wesson .40-caliber handguns.
A bulletproof vest, handcuff keys and the officer's identification were also stolen.
Some items, including the badge, were recovered Tuesday near 120th Street and Central Avenue in Willowbrook.
The weapons were reportedly still missing.