This is an archived article and the information in the article may be outdated. Please look at the time stamp on the story to see when it was last updated.
A fire on a big-rig truck hauling compressed hydrogen caused authorities to shut down the 60 Freeway in the San Gabriel Valley for nearly nine hours Thursday, prompting a shelter-in-place order and a massive rush-hour traffic backup across the region.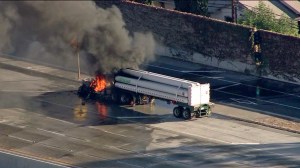 The fire was reported at 2:48 p.m. in the area of 60 Freeway at Hacienda Boulevard in Hacienda Heights (map), according to the California Highway Patrol's online incident site.
The freeway, which links downtown Los Angeles to the Inland Empire, was shut down in both directions.  As of 9:00 p.m. the westbound lanes were being reopened the CHP said in a tweet.  The eastbound lanes were reopened around 11:30 p.m.
The driver, who survived, said the truck was carrying carrying compressed hydrogen cylinders, the CHP's Southern Division stated on Twitter.
The entire cab of the truck was demolished. A column of smoke rose from the scene on the empty freeway, where firefighters were keeping their distance from the highly combustible material, aerial video showed.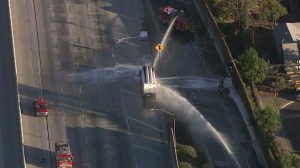 "This is a very dynamic situation. We are playing a safety-by-the-numbers game," fire Inspector Los Angeles County Fire Department Inspector Scott Miller said. "We're not going to have our personnel attack this thing head on. It's something we have to be cautious with."
Residents in the area had been ordered to shelter in place, fire officials said.
The firefight continued into dark even after the flames in the cab were extinguished, with 2,000 gallons per minute being streamed onto the truck, according to fire Inspector Tony Akins.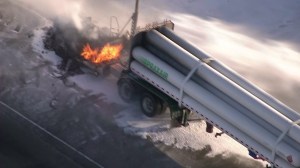 The fire in the cab of the truck had spread to the cargo area, burning through relief valves on the hydrogen tanks, Akins said. Firefighters were watching the invisible flames from the hydrogen gas burn with thermal-imaging cameras, he added.
It took nearly nine hours for the hydrogen to burn off completely, fire officials said.
The tubes on the truck were labeled Praxair, a Danbury, Conn.-based company that produces industrial gases.
The truck was stopped on the side of the eastbound freeway just before the Hacienda Boulevard on-ramp.
For hours, traffic was backed up for miles.