This is an archived article and the information in the article may be outdated. Please look at the time stamp on the story to see when it was last updated.
A gasoline-carrying tanker truck that caught fire in Boyle Heights sent smoke towering into the air near downtown Los Angeles Friday afternoon, burning two nearby homes and creating a mess that was expected to require an extensive cleanup operation.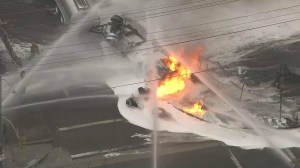 The tanker truck overturned while trying to enter the southbound 5 Freeway, catching fire about 3:30 p.m. at 2684 E. Eighth St. (map), the Los Angeles Fire Department's Brian Humphrey said in an alert.
The truck had an estimated capacity of 4,800 gallons, which turned into a "river of burning fuel flowing downhill" when the rear tanker overturned and caught fire, Humphrey said.
A hazmat placard on the truck appeared to indicate it was carrying gasoline, which Humphrey later confirmed. About 2,000 gallons remained in the tanker after the fire was knocked down.
Some 157 firefighters battled the blaze for 80 minutes not far from the interchange of the 5, 10 and 101 freeways. The address given by the Fire Department was for an empty lot next to the entrance ramp to the southbound 5 Freeway.
As many as three homes were threatened by fire, but no formal evacuations were ordered, Humphrey said. He later said the two closest homes and one vehicle were damaged by fire.
One nearby triplex sustained significant damage, while the exterior of another home was burned. Video from Sky5 showed firefighters working on the roof of one nearby residential structure, cutting holes into its roof.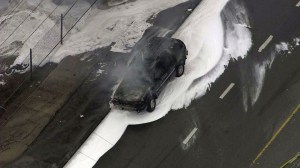 Meanwhile, flames rose from the truck as firefighters sprayed water and foam on the vehicle. At least one nearby SUV was charred, as was a nearby trailer.
A nearby power pole sparked and also caught fire, aerial video from Sky5 showed.
Firefighters remained on the scene to continue "cooling measures" and to seek to avoid failure of the tank, which might contain additional fuel.
Federal, state and local authorities were working on what was expected to be an extended cleanup, including utility work and the closure of the local street and freeway on-ramp, Humphrey said.
Police were interviewing the truck's driver.
Streets were expected to remain closed well into the night.
KTLA's Tim Lynn and Scott Williams contributed to this article.
Correction: An earlier version of this story incorrectly attributed information that the tanker was carrying gasoline. The story was updated.
More videos: