This is an archived article and the information in the article may be outdated. Please look at the time stamp on the story to see when it was last updated.
CORONA, Calif. (KTLA) — A teachers aide in the Corona-Norco Unified School District is accused of sexual assaulting a young student.
Police in Corona say it started two years ago when Steven Martinez, 22, allegedly befriended an 11-year-old student at Orange Elementary School.
Authorities say Martinez soon started sending her messages through social media and text.
"They were texts asking the victim for photographs of herself," said Corona police Lt. Alan Lorton.
The parents of the alleged victim, who is now 13, contacted police on Monday after seeing the text messages.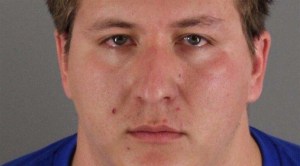 Police now say it appears the messaging relationship may have turned physical.
"There's an allegation of attempted forced oral copulation," Lorton said.
Martinez was arrested on Wednesday at Garretson Elementary in Corona.
According to authorities, he splits his time as an educational aide between Garretson and Orange elementary schools.
On his Facebook page, Martinez describes himself as a substitute teacher who lives for "God, Family, Friends."
He was booked for investigation of aggravated child sexual assault and sending harmful matter to seduce a child, jail records show.
Martinez is being held at the Larry D. Smith Correctional facility in Riverside in lieu of $1 million bail.
Police believe there may be other victims and urge anyone with information to call 951-817-5789.