This is an archived article and the information in the article may be outdated. Please look at the time stamp on the story to see when it was last updated.
A teacher's aide who had an apparent breakdown and allegedly assaulted students at Van Nuys Elementary School was charged with four criminal counts, prosecutors announced Thursday.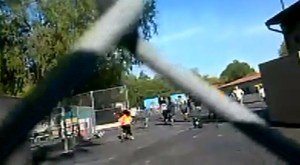 Linda Hovanec, a 55-year-old special education teacher's aide, allegedly caused a disturbance in a classroom, prompting the students to run for safety.
Video from the scene showed students fleeing onto the playground as an emergency alarm pierced the air during the Monday outburst.
An ambulance arrived for Hovanec shortly afterward.
Parents said she had run onto campus from her parked car, leaving the vehicle's door open. Students described her jumping on a desk and ripping up papers.
She was charged by the Los Angeles City Attorney's Office with three counts of misdemeanor battery and one count of child endangerment.
Hovanec shoved tables and threw chairs, leaving two students injured, according to the City Attorney's Office.
She pleaded not guilty at a Wednesday court appearance.
She was being held at Century Regional Detention Facility in Lynwood, county inmate records showed, and her bail was set at $30,000.