This is an archived article and the information in the article may be outdated. Please look at the time stamp on the story to see when it was last updated.
Both Google and Apple have made a small but crucial change to the way your location is shared when you call 911. Operators can now have better access to your precise whereabouts when you call from a wireless phone.
When it comes to calling 911, every second counts.
"When they call 911, they expect help and they expect it to work fast and efficient," explained Stephanie Estrada, a police services representative with LAPD and an instructor at the communications division.
I recently visited a 911 call center in Downtown Los Angeles to see the results of some big changes made recently by both Apple and Google. Both phone giants have now incorporated technology from a company called RapidSOS so 911 dispatch operators can tell precisely where a wireless caller is located.
Follow Tech Reporter Rich DeMuro on Facebook, Instagram and Twitter for the latest tech news, new gadgets, tips and useful apps.
Surprised it's taken this long? Me too.
Back in the day, locating 911 callers was easy. Calls would come in from landlines, which were attached to a physical address. But when cell phones came along, everything changed.
"Many times, when wireless phones came out, we asked people to pull over and go to a pay phone so we could locate them," explained Jeff Robertson with RapidSOS.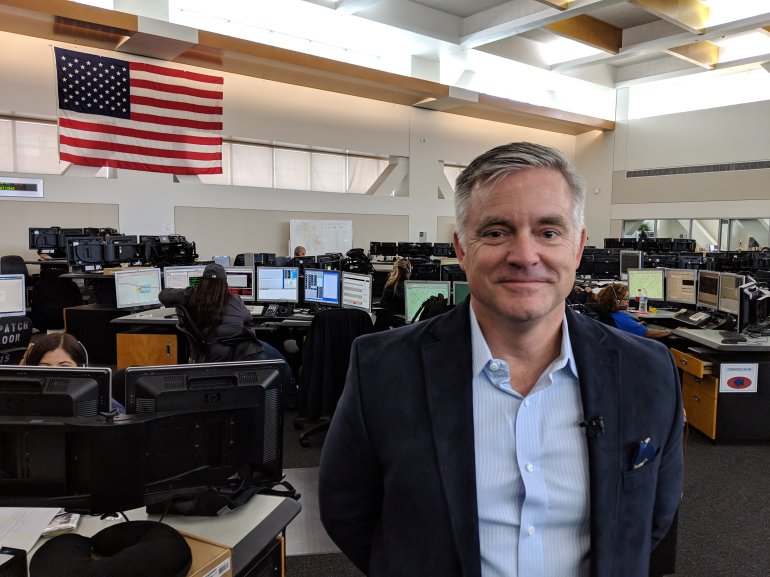 Wireless carriers typically use a system of triangulation to show where a caller is. This can be inaccurate since it relies on coming up with a location based on the location of cell phone towers, which can be far apart.
"Our mission at RapidSOS is to make that circle smaller to have an accurate location of the handset that's calling," explained Robertson.
RapidSOS convinced Google and Apple to add their software to Android 4+ and iOS 12. Now, when you make a call, data about your precise location is also sent to dispatchers. There is nothing extra you need to do for the location data to be sent if your phone software is up to date.
"We will pinpoint with a very small radius exactly where that caller is to help that dispatcher get emergency personnel there fast," said Robertson.
I saw demos of the typical location data versus what is now provided. The difference is dramatic – often down to exactly where a caller is inside a building.
Instead of simply relying on triangulation, RapidSOS technology "uses Bluetooth beacons, GPS, it uses wifi access points, it uses everything and it kind of combines it together," explained Estrada.
Right now, about 50 percent of 911 call centers nationwide can access the added data. But the best part: RapidSOS offers their software to 911 call centers for free.
"It really is going to save a life, and it is making our job easier," concluded Estrada.
The next hurdle is text to 911, which many communities are now embracing. Right now, location data is only sent to dispatchers when you're texting from an Android device, but not an iPhone. It's up to Apple to improve that.
NOW LISTEN: Here's an extended interview with Jeff Robertson of RapidSOS on what the company is working on for the future of emergency location services. Think vital info being sent from connected cars, video doorbells and more right to 911 operators. From the Rich on Tech Podcast.
[protected-iframe id="ac3d034c6eedeaf916ecf9d4c6eb02c1-41641936-42315212″ info="https://player.pippa.io/5a788c1e77abb830441900e8?theme=white&cover=1&latest=1″ width="100%" height="218px" frameborder="0″]