This is an archived article and the information in the article may be outdated. Please look at the time stamp on the story to see when it was last updated.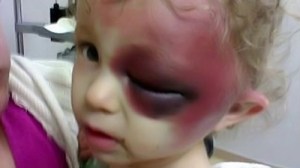 ENID, OK – An Oklahoma teen is arrested after confessing to severely beating a child.
We first showed you graphic pictures of the little girl's injuries last week as police were searching for the person responsible.
Tuesday authorities called several people back in for questioning and got a confession.
"The first step was finding out that yes she's going to be ok, and she's going to make a full recovery," Amanda Gamble said.
Twenty year old Gamble says she is taking things one step at a time after she found her 23 month old daughter, Evie, severely bruised and beaten nearly a week ago.
She says she left the toddler with her boyfriend and a 17 year old babysitter.
She says she did not check on the little girl until the next morning and found her daughter's head swollen and bruised.
"I backed up, and I started crying. I said 'Evie what happened?' and she pointed to her head and said 'Evie got owies,' and then she hugged me and then she said, 'Momma, are you ok?'" Gamble said.
Tuesday afternoon Enid police arrested the 17 year old sitter after calling several people back in for questioning.
They say at first she told a couple of stories that did not add up before admitting she was the one who abused the little girl.
"She actually got mad at the kid because the kid wouldn't stay in bed," Enid Police Sgt. Dustin Albright said.
"She was following the kid back through the kitchen and pushed her with both hands and caused her to fall face-first into the kitchen tile."
It is a story the babysitter's mother does not believe.
She claims her daughter was threatened and made it up out of fear.
She says her daughter just turned 17 and just became a mother herself five months ago.
"I think she's covering up for somebody," Carol Tunis said.
"I really do not believe she put all those bruises on that baby."
It is a cover-up to some, but a tough realization for little Evie's mother.
"Be careful who you leave your kids with," she said. "Be careful who you trust."
Courtesy: KFOR