This is an archived article and the information in the article may be outdated. Please look at the time stamp on the story to see when it was last updated.
Classrooms at a high school in Lake Elsinore were nearly empty on Monday after word of a possible shooting threat on campus spread through social media over the weekend.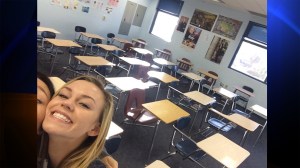 Police were first alerted to the alleged threat at Temescal Canyon High School (map) on Friday when someone claimed to have overheard a student say there was going to be a shooting on campus Monday, according to a news release from the Lake Elsinore Police Department.
The person who contacted police did not identify the student and gave no further details, according to the Police Department.
Authorities shared the information with school officials, who planned to increase the presence of law enforcement on campus for the upcoming week, police stated.
By Sunday evening, police were receiving numerous calls from concerned parents as information about the alleged threat spread over social media.
Police also received several tips that led them to the student, who is a minor and was not identified, accused of making the threat.
Pictures posted to Twitter on Monday showed several nearly empty classrooms as many students apparently stayed home due to the possible threat.
The investigation into the incident was ongoing, police stated.
Anyone with specific information was asked to contact lead investigator Tony Pelato at the Lake Elsinore Police Department at 951-245-3300.