This is an archived article and the information in the article may be outdated. Please look at the time stamp on the story to see when it was last updated.
Despite staggering rates of unemployment, the Inland Empire continued to pull tens of thousands of people from Los Angeles County during the recession and its aftermath — the nation's biggest net county-to-county movement from 2007 to 2011 — new Census Bureau estimates reveal.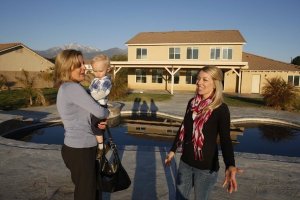 Roughly 35,000 more people poured into the Inland Empire from Los Angeles County than moved in the opposite direction. The migration occurred even as Riverside and San Bernardino counties lost some 144,000 jobs. The people who moved included rich and poor and Angelenos across educational levels, according to the newly released Census Bureau estimates.
Experts say the huge gulf in housing costs continued to be a powerful force drawing moving vans eastward. In the last quarter of 2013, the median price for a Los Angeles County home was $449,000, said John Husing, chief economist for the Inland Empire Economic Partnership. In the Inland Empire, it hovered around $260,000, according to his figures.
"People respond to prices," Husing said. "The difficulty is that people move before the jobs move."
Click here to read the full story on LATimes.com.