This is an archived article and the information in the article may be outdated. Please look at the time stamp on the story to see when it was last updated.
Television's brightest stars descended on Hollywood for the 2017 Emmy Awards where The Handmaid's Tale and Big Little Lies won big with multiple awards Sunday night.
The Handmaid's Tale, a series that has become a fan favorite since it premiered in April, took home awards for Outstanding Writing in a Drama Series, Outstanding Directing for a Drama Series and Outstanding Drama Series.
Eight-time nominee Elisabeth Moss won the Outstanding Lead Actress in a Drama Series award for her role as Offred in Hulu series.
Veteran character actress Ann Dowd became overcome with emotion after winning the award for Outstanding Supporting Actress in a Drama Series for her take on the formidable Aunt Lydia.
"I just didn't except it. Every time I thought 'what if,' you know, your mind just stops for a second and says 'get a hold of yourself this minute,'" Dowd told KTLA.
Big Little Lies, one of the most critically acclaimed limited series of this award season, also had a winning night with a Outstanding Supporting Actor win for Alexander Skarsgård, an Outstanding Supporting Actress win for Laura Dern, an Outstanding Lead Actress win for Nicole Kidman and an Outstanding Limited Series win.
Dern told KTLA that there may be a second season for the HBO series.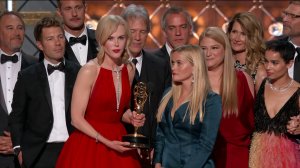 "We're so excited, so thrilled," said Dern after winning her award. "There's lots of talk about it and obviously as actors we're all euphoric at the idea twofold; one because we loved our characters and two because literally we're family."
Sterling K. Brown, who took home the award for Outstanding Lead Actor in Drama Series for his role as Randall Pearson in This Is Us, told KTLA that the experience has been a dream come true.
"From the moment that I read that pilot I knew that we had something special in our hands," said Brown. "Now whether everybody else recognizes that it's special is a whole other thing. So the fact that the public took notice, and we get a chance to be here tonight, and that the critics took notice as well; it's a dream beyond dreams."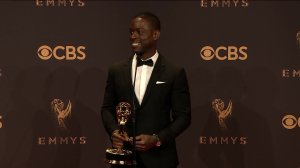 Saturday Night Live was another big winner of the night for their politically charged 43rd season.
The sketch comedy series took home the Outstanding Supporting Actress in a Comedy Series award for Kate McKinnon, the Outstanding Supporting Actor in a Comedy Series award for Alec Baldwin and the Outstanding Directing award for Don Roy King.
Baldwin told KTLA on the red carpet that he did not fully prepare for his role as President Donald Trump and improvised much of his performance.
"If I do get an Emmy tonight it should be for the most incomplete performance by an actor in a supporting role," Baldwin joked.
Other major wins for the night include Donald Glover, Atlanta, for Outstanding Lead Actor in a Comedy Series, Julia Louis-Dreyfus, Veep, for Outstanding Lead Actress in a Comedy Series and Riz Ahmed, The Night Of, for Outstanding Lead Actor in a Limited Series.