This is an archived article and the information in the article may be outdated. Please look at the time stamp on the story to see when it was last updated.
A 7-month-old tiger owned by rapper Tyga and believed to have been living in a Ventura County home has been taken to a permitted shelter, officials said on Friday.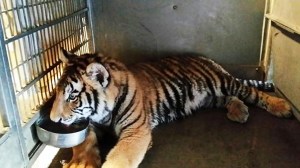 Wildlife officers received a call at about 4 p.m. on April 19 that a tiger was living at the residence, California Department of Fish and Wildlife spokesman Andrew Hughan said.
The home was not occupied when a warden arrived, and a search of the property turned up no signs of an animal, according to Hughan.
The warden waited at the house until the homeowner returned at about 11 p.m.
The homeowner admitted to having the tiger, but said it had been removed to a private animal shelter that afternoon, according to Hughan.
At about 1:30 a.m., wildlife officers took possession of the tiger and placed it in a "permitted California restricted species facility" for safekeeping during the investigation.
Tigers must be kept in a permitted facility and are not allowed to be owned by private citizens, Hughan said.
The male tiger was about 7 months old, according to Hughan.
The exact location of the home was not disclosed.
"The important thing to us is the health and safety of the animal and it's safe and sound for now," Hughan said.
Tyga was nominated for a Grammy in 2011 for best rap/sung collaboration with Chris Brown and Kevin McCall for "Deuces."