This is an archived article and the information in the article may be outdated. Please look at the time stamp on the story to see when it was last updated.
[protected-iframe id="b03c3a6472ac2236c158a98a84ef76a6-41641936-42155150″ info="http://i.cdn.turner.com/cnn/.element/apps/cvp/3.0/swf/cnn_embed_2x_container.swf?site=cnn&profile=desktop&context=embedwww&videoId=us/2013/07/10/dnt-koin-toddler-buys-car.koin&contentId=us/2013/07/10/dnt-koin-toddler-buys-car.koin" width="416″ height="234″]
PORTLAND, Ore. (KTLA) — A 14-month-old girl inadvertently bought a car on eBay using her father's smart phone.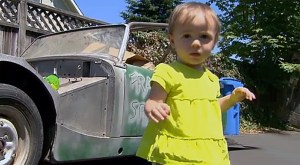 Sorella Stoute's father got the news when he received notice from eBay, congratulating him on his purchase of a gently used, 1962 Austin Healey Sprite, for just over $200.
"She decided I think to open the eBay app, and started clicking around and one thing led to another and now we own a car," Paul Stoute said.
The couple decided to keep the car. Sorella's dad planned to restore it as a gift to Sorella on her 16th birthday.
"I'm just glad she didn't buy the $38,000 Porsche I was also looking at," Stoute said.