This is an archived article and the information in the article may be outdated. Please look at the time stamp on the story to see when it was last updated.
Two-time Oscar winner Tom Hanks played a role in the surprise ending of a domestic assault case in Los Angeles, according to defense attorney Andrew Flier.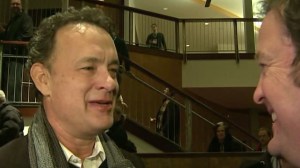 Hanks had been serving as a juror in the trial since it started last week. Flier's client was facing up to a year in jail and the attorney was prepared to offer closing arguments in the case on Wednesday.
Instead, as proceedings wrapped Tuesday, the prosecuting attorney revealed that another lawyer in the Los Angeles City Attorney's Office had interacted with Hanks outside the courtroom, thanking him for his service.
As a result, Flier asked the court for a mistrial, citing prosecutorial misconduct. In a hearing on Wednesday morning, lawyers on both sides of the case convened and settled on a reduced charge for the defendant: disturbing the peace and a $150 fine.
Click here to read the full story on CNN.com.