This is an archived article and the information in the article may be outdated. Please look at the time stamp on the story to see when it was last updated.
Soldiers of the United States Army's 3rd Infantry Regiment stand guard at the Tomb of the Unknown Soldier at Arlington National Cemetery 24 hours a day, 365 days a year, despite the record cold temperatures.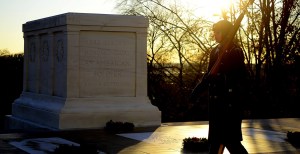 The Sentinels, all volunteers, are headquartered at Fort Myer, Va.
According to their Facebook page, "Tomb Sentinels like Spc. Nathaniel Chartier remained on duty, bundled up as much as possible to safely keep their watch."
The Tomb of the Unknowns was established in 1921. It is dedicated to American service members who have died without their remains being identified. It is also known as the Tomb of the Unknown Soldier; it has never been officially named, according to Arlington National Cemetery where the memorial is located.