This is an archived article and the information in the article may be outdated. Please look at the time stamp on the story to see when it was last updated.
A tour bus skidded from an off-ramp of the 10 Freeway in Baldwin Park into a drainage ditch Monday morning, leaving 13 people injured, authorities said.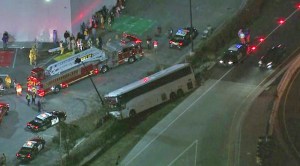 The crash happened around 4:30 a.m. when the bus driver lost control as the vehicle exited the freeway, according to the California Highway Patrol.
The vehicle then slammed into a pole and landed on its side, the CHP said.
Officials said 39 people were on the bus, including the driver.
Sky 5 captured video of several people being loaded into ambulances.
Two people suffered moderate injuries and 11 were treated for minor injures, according to the Los Angeles County Fire Department.
The preliminary investigation indicated speed was a factor, according to the CHP.
"We do believe that speed is the cause of this crash," Officer Rodrigo Jiminez said.
The bus had departed from the Fantasy Springs Resort Casino in the Indio area, officials said.