This is an archived article and the information in the article may be outdated. Please look at the time stamp on the story to see when it was last updated.
On a recent postcard-perfect day, James Foutch is selling tours of movie stars' homes from a prime location on Hollywood Boulevard's Walk of Fame, just as he has for more than a decade.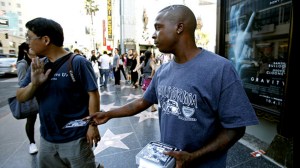 But his customary spot on the gray terrazzo sidewalk, studded with pink stars, is about to change.
In a crackdown aimed at managing the mobs of people visiting the wildly popular venue, Foutch and other sightseeing bus operators are being forced to the sidelines.
Starting on Sunday, sales of bus tours from the Walk of Fame will no longer be permitted. Under a change approved by the Los Angeles City Council last month, tour businesses must sell tickets from shops or kiosks on private property.
Click here to read the full story on LATimes.com.