This is an archived article and the information in the article may be outdated. Please look at the time stamp on the story to see when it was last updated.
MALIBU, Calif. (KTLA) —  A tow truck driver was killed in Malibu Monday night when he was struck by a hit-and-run driver.
It happened around 8:45 p.m. on eastbound Pacific Coast Highway at John Tyler Drive, near Pepperdine University.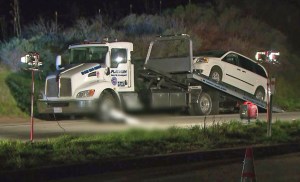 Los Angeles County sheriff's deputies say the tow truck driver was helping a stranded motorist when a speeding Audi slammed into him.
The victim, identified as 45-year-old Ronald Carver, of Newbury Park, was killed on impact. He worked for Platinum Tow and Transport.
Police say that the driver of the Audi, 44-year-old Jill Rose, of Venice, then continued eastbound on PCH.
Her car apparently flipped over, but somehow landed back on its wheels.
She ultimately crashed into a parked car about two miles away in the 22900 block of PCH, near Malibu Pier.
Rose was arrested and then taken to UCLA Medical Center in critical condition with a brain hemorrhage. She is expected to survive.
It's unclear if alcohol or drugs may have played a role in the crashes. Authorities said Rose had a history of opiate abuse.
She is facing charges of vehicular manslaughter and felony hit-and-run.
Eastbound PCH was shut down completely at John Tyler Drive. Traffic was being diverted into one of the westbound lanes.