This is an archived article and the information in the article may be outdated. Please look at the time stamp on the story to see when it was last updated.
In a night of chaos at Los Angeles International Airport three weeks after gunman's fatal shooting spree, a vehicle collision prompted a false report of shots fired and a separate report of a man with a gun caused authorities to evacuate a terminal.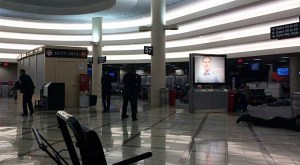 No threat was found anywhere at the airport, but LAX passengers were once again thrown into a terrifying situation and air travel was disrupted.
About 4,600 arriving and departing passengers were affected, with 60 flights delayed for American Airlines and Delta Airlines, according to a statement from Los Angeles World Airports, which operates LAX. Normal operations were expected to begin again by 1:30 a.m. Saturday.
Pictures from the scene showed travelers on the floor surrounded by heavily armed police officers.
The series of events began about 7:30 p.m. when a driver had a medical incident that caused her to lose control of her car and crash into other vehicles in front of Terminal 5, according to the airport statement.
The crash caused a loud noise that some people interpreted as gunfire, according to Airport Police Sgt. Karla Ortiz. Responding officers handling the car crash were told that shots had been fired inside Terminal 5.
Officers responded inside the terminal and "jittery passengers self-evacuated," according to the airport statement.
"People started calling out, 'Shots have been fired,' and then everybody in the terminal started running … And then the police came through, screaming, 'Everybody get on the floor,'" passenger Simone Wilkinson recalled.
There was no indication that any shots were fired, Ortiz said.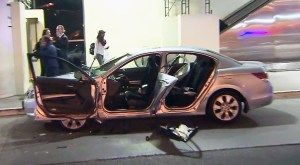 The driver in the crash was transported to the hospital in unknown condition. Witnesses said an SUV side-swiped another car and hit a woman who appeared to have children with her.
She appeared to have been dragged, said George Hemminger, who saw the "horrible" collision.
While this was unfolding near Terminal 5, an anonymous caller reported there was a man with a weapon at Gate 45 in Terminal 4, according to the release.
Officers who responded to that area found nothing, but "out of an abundance of caution," the terminal was evacuated so it could be fully searched and cleared, police said.
All traffic in the central terminal area was temporarily diverted from the upper level to the lower level, creating a huge backup.
Flight operations in Terminal 4 were also temporarily disrupted, as about 2,000 evacuated passengers were being re-screened.
The incident comes three weeks to the day after a gunman opened fire inside Terminal 3, killing TSA officer Gerardo I. Hernandez.
The coroner's office released a report Friday concluding that Hernandez was shot 12 times during the airport rampage.
The alleged gunman, Paul Ciancia, is in federal custody after being released from the hospital.