This is an archived article and the information in the article may be outdated. Please look at the time stamp on the story to see when it was last updated.
Firefighters extinguished a transformer fire that broke out Tuesday morning at a shipping container facility in Wilmington, authorities said.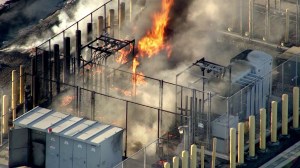 The blaze was reported about 7:34 a.m. at the TraPac Inc. location in the 900 block of West Harry Bridges Boulevard, about a half-mile north of the Vincent Thomas Bridge.
Los Angeles Fire Department personnel were working with the Department of Water and Power, waiting for confirmation that power to the transformer had been shut down before attacking the fire.
"There are no structures threatened at this time," said Katherine Main, spokeswoman for the LAFD. "There are no injuries reported at this time."