This is an archived article and the information in the article may be outdated. Please look at the time stamp on the story to see when it was last updated.
PALMDALE, Calif. (KTLA) — Extreme heat was once again expected to blanket parts of the Southland on Thursday, making for potentially dangerous conditions.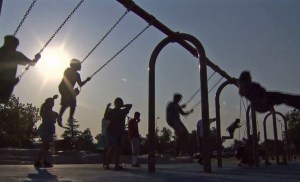 Temperatures of 95 degrees and up were expected in many areas.
Triple-digit temperatures were forecast for the high desert and valley areas, as well as the Inland Empire.
There will be some relief at the beach, forecasters said.
However, they warned beachgoers about a strong risk of rip currents and elevated surf through Sunday evening.
Officials advised people to stay hydrated and limit strenuous activities to the early morning or evening hours.
Pets and children should never be left in cars.
Authorities in Lawndale on Wednesday rescued two puppies who were locked in a vehicle for 8 hours without water.
People were also advised to keep an eye on the elderly, who can sometimes have trouble in the heat.