This is an archived article and the information in the article may be outdated. Please look at the time stamp on the story to see when it was last updated.
An airport security screener seized a toy pistol from a sock monkey dressed as a cowboy — because it apparently looked too real.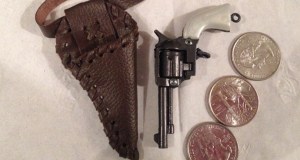 A TSA agent in St. Louis discovered the tiny gun in a carry-on bag of sewing supplies belonging to a Washington state woman.
Phyllis May says she was "shocked and embarrassed" when the TSA agent allegedly threatened to call the police.
According to KING5.com — May has a small business selling unique sock monkey dolls. This doll was named "Rocky Monkburn" — a takeoff of the John Wayne character "Rooster Cogburn" from the film "True Grit."
KING5.com reports May told them the TSA agent said "this is a gun," to which May responded "No. It's not a gun. It's a prop for my monkey."
KING5.com says then, the TSA agent said: "If I held it up to your neck, you wouldn't know if it was real or not," to which May responded: "Really?"
In the end, May says the police were not called and she got her sewing supplies back, minus the toy gun.
The TSA issued a statement, saying: "TSA officers are dedicated to keeping the nation's transportation security systems safe and secure for the traveling public. Out of an abundance of caution, realistic replicas of firearms are prohibited in carry-on bags."