This is an archived article and the information in the article may be outdated. Please look at the time stamp on the story to see when it was last updated.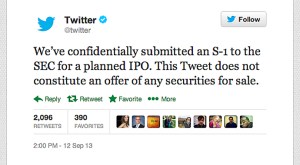 Twitter filed for an initial public offering of stock on Thursday afternoon, though the details of its business will remain a secret for now.
The company sent its filing confidentially to the Securities Exchange Commission. Many soon-to-be-public companies have been taking advantage of new regulations passed last year in the Jumpstart Our Business Startups (JOBS) Act, which allows smaller businesses to keep its financial data out of the public's eye.
 Under the act, companies with less than $1 billion of annual revenue can file for confidential IPOs.
Twitter has been rumored to be going public for the past few years. After Facebook's (FB) IPO in May 2012, it was widely believed that Twitter would be the next major technology company to offer its stock to public investors.
Click here to read the full story at CNN.com.