This is an archived article and the information in the article may be outdated. Please look at the time stamp on the story to see when it was last updated.
Two people were arrested in connection with a brutal assault two weeks ago that left a 19-year-old student unconscious and battered, Long Beach Police announced Monday.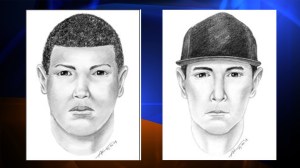 The teenager, who did not want to be identified, said she was on her way to the laundry room at the Park Avenue Apartments on Beverly Plaza (map) at 11:30 p.m. on March 3 when a man approached her and struck up a conversation.
"He said you're a lovely lady. I said, thank you," she told KTLA.
A moment later, she said, a second man suddenly appeared. "As I turned, I saw this dark shadowy figure punch me in the face," she said. "I just remember fists coming at me."
She said she remembered hitting the concrete and trying to call for help.
The young woman had to be taken to the hospital, where she treated for "significant" facial injuries, according to a news release from the Long Beach Police Department.
Ten days after the attack, officers were called to the same complex by a resident who reported seeing two suspicious individuals matching sketches of the attackers released by police, according to Long Beach Police Sgt. David Schillig.
Both individuals were arrested on suspicion of trespassing.  During the course of the investigation, detectives learned the two had knowledge of the assault, police said in a news release.
On Friday, the District Attorney's office charged 20-year-old Jonathan Britton of Long Beach with attempt murder, battery with serious injury, assault and robbery.  He was being held at the Los Angeles County Men's Central Jail.
Britton was arrested along with an unidentified 15-year-old juvenile, the release stated. The teenager was released to his parents while investigators try to determine the extent of his involvement in the attack, police said.
Anyone with information was urged to contact Detective Mark Steenhausen at 562-570-7465.