This is an archived article and the information in the article may be outdated. Please look at the time stamp on the story to see when it was last updated.
One week after a deadly shooting at Los Angeles International Airport, police responded to two separate incidents Friday night at the airport that led to arrests, authorities said.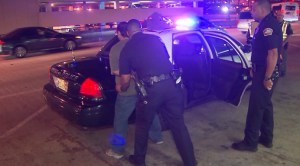 Around 8 p.m. a male passenger in Terminal 2 made a comment that caused police to respond, according to witnesses.
The man said he had an explosive device in his luggage, according to the Airport Police Department.
The ticketing area was evacuated, and the Los Angeles Police Department bomb squad called in, police said.
The man was arrested and taken to the LAPD's Pacific Area Station.
About an hour later, a limousine driver on the lower level of Terminal 3 contacted law enforcement saying he had a passenger with a gun, police said.
LAX police responded and briefly took the man into custody.
The man was released a short time later, according to police.
The incidents happened at a time of heightened security at the airport.
Last Friday, a gunman opened fire at the airport killing TSA Security Officer Gerardo I. Hernandez.
The TSA honored Hernandez one week later with a moment of silence at airports across the country.