This is an archived article and the information in the article may be outdated. Please look at the time stamp on the story to see when it was last updated.
A Los Angeles County Superior Court judge ruled Monday that two men will stand trial for murder in the deaths of two USC graduate students from China who were shot in an apparent robbery.
Judge Stephen A. Marcus said that there was "more than enough" evidence tying Bryan Barnes, 21, and Javier Bolden, 20, to the April 11, 2012, slayings.
Ying Wu and Ming Qu, both 23, were fatally shot as they sat in a BMW parked outside a house near the campus.  The students' cellphones had been stolen. Prosecutors say Barnes sold one phone to a store. The other phone was recovered at the residence where he was arrested, they said.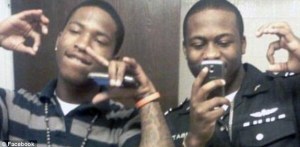 Using shell casings recovered at the scene, investigators also connected Barnes and Bolden to an earlier shooting in which one victim was shot eight times. Bolden was tied to another shooting in which two people were wounded. Marcus ordered them to stand trial in connection with those shootings as well.
Click here to read the full story at LATimes.com.