This is an archived article and the information in the article may be outdated. Please look at the time stamp on the story to see when it was last updated.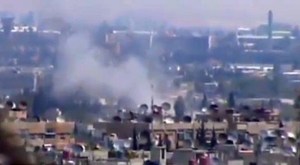 WASHINGTON, DC — The United States believes Israel has conducted an airstrike into Syria, two U.S. officials tell CNN.
U.S. and Western intelligence agencies were reviewing classified data showing Israel most likely conducted a strike in the Thursday-Friday time frame, according to both officials.
This was during the same time frame that the U.S. collected additional data showing Israel was flying a high number of warplanes over Lebanon.
One official said the United States had limited information so far and could not yet confirm those are the specific warplanes that conducted a strike.
Based on initial indications, the U.S. does not believe Israeli warplanes entered Syrian airspace to conduct the strikes.
Both officials said there is no reason to believe Israel struck at a chemical weapons storage facilities.
Read More http://www.cnn.com/2013/05/03/world/meast/israel-airstrike-syria/index.html?hpt=hp_c2