This is an archived article and the information in the article may be outdated. Please look at the time stamp on the story to see when it was last updated.
President Barack Obama signed a budget bill that ended a 16-day government shutdown and avoided a possible U.S. default.
The president signed the bill early Thursday morning after it passed the U.S. House of Representatives and Senate on Wednesday evening.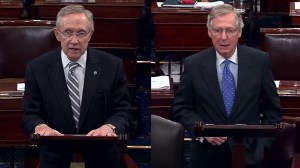 Thursday is the deadline for increasing the federal borrowing limit or risk the first default in American history.
Such quick congressional action on a measure announced earlier in the day was in stark contrast to the protracted brinksmanship of recent weeks that led to the shutdown and brought the threat of default.
The measure represented a victory for Obama and Democrats over conservative Republicans who tried to use the shutdown and debt ceiling deadline to wring concessions on spending cuts and dismantling the Obama's signature health care reforms.
Click here to read the full story on CNN.com.