This is an archived article and the information in the article may be outdated. Please look at the time stamp on the story to see when it was last updated.
A UC Irvine student remained in custody Friday morning after a high-speed police pursuit that ended on Pacific Coast Highway in Malibu, authorities said. Two passengers, who also attend UCI, were released after being detained.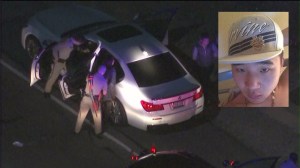 Eighteen-year-old Yuan Zhou, a Chinese exchange student, was booked at the 77th Street Regional Jail for felony evading, according to Sgt. Van Valkenburgh of the California Highway Patrol. He was being held there in lieu of $75,000 bail.
At 8:33 p.m. Thursday, a CHP officer attempted to conduct a traffic stop for unsafe lane changes on the northbound 5 Freeway in East Los Angeles, Valkenburgh said. The vehicle, a newer-model BMW, failed to yield.
A chase ensued, reaching speeds of up to 115 mph on the westbound 10 Freeway before continuing northbound on PCH. However, the car came to a complete stop at least three times when it came to red lights at intersections.
The pursuit ended at 9:16 p.m. in Malibu, just south of Lunita Road.
Sky5 video showed the driver being yanked out of the white BMW by officers, then handcuffed and placed into a patrol car.
The two passengers, a man and a woman, then exited the vehicle. They were later identified by authorities as 19-year-old Chinese nationals.
Zhou has a valid driver's license, according to the CHP. He may be arraigned as early as Monday.